Eyelid surgery / Blepharoplasty

Blepharoplasty is a term used to describe the surgical correction of sagging, or baggy, eyelids.
Upper eyelid blepharoplasty
An upper eyelid blepharoplasty may be undertaken for aesthetic and/or functional concerns. Ageing and sun exposure cause a downward movement of the outer corner of the eye as well as stretching of the eyelid skin, which gives a 'hooded' appearance. Frequently there is a downward movement of the outer half of the eyebrow itself. At the inner corner of the eye there is frequently a prominent bulge of fat.
Most of these features can be addressed through a procedure upon the eyelid itself, in which excess skin and muscle, as well as fat, can be reduced to give a brighter, more rested appearance to the eyes. Brow frown lines may also be addressed through an upper blepharoplasty incision. It is usually performed under sedation (twilight) and local anaesthetic as a day only procedure.
In some patients, however, it is the brow that is the primary problem with the eyelid secondary. In these patients a brow lift, usually combined with a blepharoplasty, is most appropriate. Upper lid blepharoplasty may be combined with other facial rejuvenating procedures such as lower blepharoplasty, brow lift or facelift operations.
Lower eyelid blepharoplasty
Lower eyelid blepharoplasty is a more involved undertaking and is impacted upon more significantly by factors such as sun damage to skin, poor elasticity of lower eyelid structures and ageing. It enables treatment of both skin excess and fatty herniation (bags). These can be achieved by approaches from within the eyelid, or through outside of the lid near the eyelashes. Fatty bulges can be removed or redistributed to achieve a more youthful appearance to the lid. It is often done in combination with elevation and suspension of the outer corner of the eye, so called canthopexy or canthoplasty. Again, lower blepharoplasty can be done in concert with other facial rejuvenating procedures.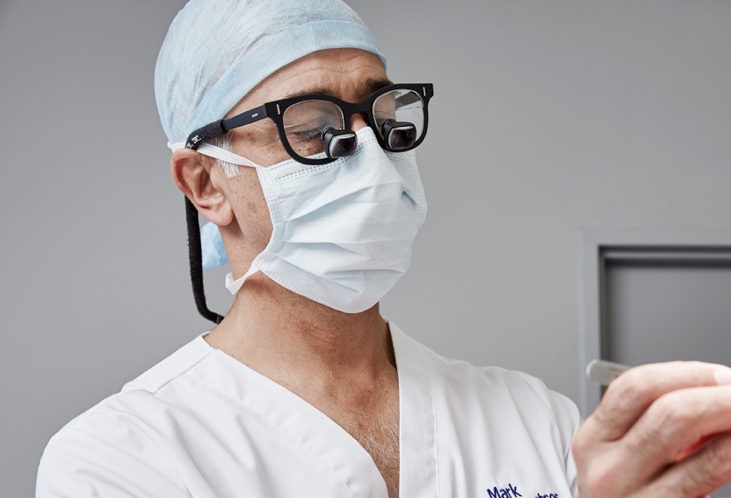 Our philosophy is to treat all patients as we would be expected to be treated ourselves.
A/Prof. Mark Gianoutsos
Our philosophy